With a group of exceptionally talented individuals, Basil Leaf Creative has a built of rock solid foundation across the years. Copywriters, photographers, strategists and external consultants bring in expertise that is unparalleled
Meghna Parekh
Founder, Basil Leaf Creative
When Meghna Parekh started a creative communication company over 15 years ago, she had little help. Meghna let her work & dedication speak volumes. With her sharp, creative genius, Meghna has built a foundation of trust, creativity and performance with each client. Mother of BLC & a precocious daughter , connoisseur of everything creative, MasterChef at large, boss lady – Meghna has made Basil Leaf Creative her lifeline and a successful one at that.
Meghna has represented Basil Leaf Creative at Goldman Sachs #10,000 Women, a global initiative in association with Indian Institute of Management, Bengaluru and the NSRCEL that help women entrepreneurs like her to expand their business, build network and grow capital.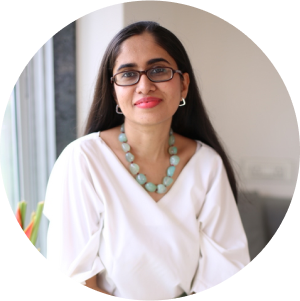 Nirav Parekh
Director of Business Development
A natural born communicator, Nerav is the other half of the BLC management team. With over 15+ years of experience in client direction & marketing, Nerav curates business development as an art. Responsible for marketing the BLC brand and its immense business growth , Nerav has strategically guided the BLC team to achieve milestones across the years. Nerav is Bachelors of Commerce from Narsee Monjee College of Commerce & Economics and has an MBA in Professional Accounting from University of Technology, Sydney.
Shalaka Gamre
Head, Administration & Billing
One of the founding team members of Basil Leaf Creative, Shalaka is the foundation that supports Basil's creativity. Multitasker and multitalented, Shalaka handles the administration and financial duties
Sandeep Manjre
Senior Visualiser
The lead designer & resident creative genius, Sandeep helms the creative reins at Basil Leaf Creative. Sandeep's creative accuracy helps Basil Leaf Creative get it right the first time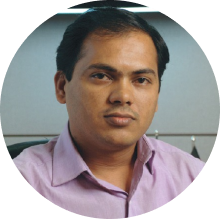 Shailesh Neharkar
Senior Graphic Designer
A veteran at Basil Leaf Creative, Shailesh is an integral cog in the BLC eco-system. All creative repurposing, adaptation work passes through Shailesh and his ability to manage bulk work has impressed many clients.
Pari Nirmal
Visualizer
Pari is a talented visualizer who is buzzing with ideas and the right energy. As a designer, she likes to think on the go and also strives to understand the business side of things to widen her understanding of the brand and think holistically
Rohan Nerurkar
Graphic Designer
Our atrangi designer Rohan loves to flaunt his work just as he loves to flaunt his hairstyles. A talented designer with a keen attention to detail and thoroughly enjoys the process from sketch to final output. A pro at hand sketching Rohan also loves doodling and calligraphy
Amit Mohite
Artwork Artist
Amit is the backbone of the team for urgent artwork, adaptations, and resizing. Always the one to enter the first into the office he works with other senior designers for timely and seamless project delivery
Hirak Kapasi Goud
Consultant, Client Relations and Strategy
With an experience of over a decade in communications, Hirak is our resident consultant on board. From developing in house communication strategies to helping clients find their communication purpose, Hirak knows it all and does it all too.
Shubh Desai
Executive Client Servicing
Latest entrant to the client servicing team, Shubh manages clients and their expectations. Aspiring to build his career in Account management, Shubh never fails to bring his A-game to the team
Dhruvi Mandvia
Hiring, BD, and Servicing
Dhruvi, within a short span of time at BLC, has grown into multiple skill sets. Being a 'people's person' she can effortlessly fit into different roles from new client meetings, to servicing clients and hiring new candidates
Nitesh Vasiya
Office Assistant
Man Friday. Helper to all. Support system of Basil Leaf Creative. Nitesh is in one word - Invaluable. Nitesh has been around with Basil Leaf Creative since inception and is well versed with BLC's eco-system.
Basil Leaf Creative is known to make careers with a healthy work-life balance. If you would like to work with us, build a career in branding, advertising and communications and have fun at the same time, send us an email at